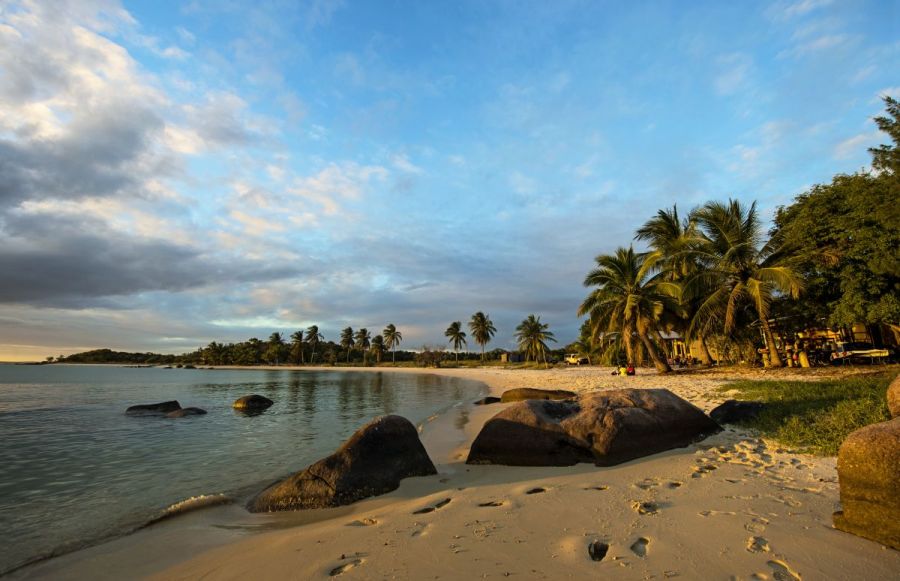 About
Nhulunbuy Fire Station is situated in the township of Nhulunbuy which is located on the Gove Peninsula in the north-eastern corner of Eastern Arnhem Land.
The Gove Peninsula, where the Gulf of Carpentaria meets the Arafura Sea, is bordered by picturesque white sandy beaches, azure waters and green vegetation.  The peninsula takes its name from the Gove Airport, which was named after RAAF Flight Sergeant William Gove following his death in a mid-air collision near Millingimbi, in 1943. Nhulunbuy takes its name from Nhulun, the prominent rise in the centre of the town and a sacred site to the Yolngu people of the area.
Read more!

The region boasts a number of recreation activities for residents. The township hosts a 50m swimming pool, surf club, nine hole golf course, squash courts, tennis courts, Australian Rules and Touch Football competitions, speedway, motocross, pistol and archery clubs. 

The beaches, islands, and surrounding areas are renowned for their vast stretches of white sand. Fishing and camping are also highly popular pastimes in the region. 
General emergency management
A Nhulunbuy Fire Station is situated next to the police station with two permanent NTFRS officers at the location. There is a significant cadre of auxilliaries and volunteers who are trained in all aspects of emergency response, including structure and grass firefighting, road crash rescue and hazmat management. Staff from the fire station also deliver school-based fire awareness education and carry out fire safety inspections, as well as fire investigations.
The Northern Territory Emergency Service also have a volunteer unit in Nhulunbuy, which is available to assist police in a variety of areas including search and rescue. These services are supplemented by well trained Mine Rescue Teams which are made readily available in emergency situations. 
The most frequent emergency management events are cyclone preparation, response and recovery, as well as aircraft incidents.  The region regularly experiences cyclones with the most recent in February and March 2015 causing considerable damage in the region. The Gove Airport has in excess of 19,000 aircraft movements annually, and also experiences regular aircraft in difficulty events.
Government and non-Government agencies
Department of the Chief Minister (DCM)
Department of Prime Minister and Cabinet (DPMC)
Gove District Hospital
CareFlight
East Arnhem Mental Health
Miwatj Health
St John Ambulance
Motor Vehicle Registry
Nhulunbuy Primary School
Nhulunbuy High School
Nhulunbuy Corporation
East Arnhem Regional Council
Centrelink
Northern Territory Fire and Rescue Service
Northern Territory Emergency Service
Department of Infrastructure
Bureau of Meteorology
Education
The township boasts an early learning childcare centre, public primary and high schools as well as private Christian primary and high schools.  
Health services
Gove District Hospital (GDH) is a thirty bed facility located in the township of Nhulunbuy and provides hospital services to the East Arnhem District. It is a fully serviced regional hospital with emergency, surgical and obstetric facilities. CareFlight have staff and aircraft based at the Gove Airport, while St John Ambulance have two paramedics based in the township along with a cadre of volunteers.   
There is a private medical clinic which operates with three to four general practitioners, as well as regular dental and optometrist visits. 
The Miwatj health service also operates across the region with clinics in Nhulunbuy, Yirrkala and Galiwin'ku. 
The township also hosts an Amcal pharmacy.   
History and culture
East Arnhem Land is the traditional homeland of the Yolngu people who have inhabited this region for more than 40,000 years. The Methodist Church established a mission in Yirrkala in 1935, with the thirteen clans that inhabited lands in the surrounding regions gradually drawn into the mission. 
Despite the influence of Christianity the local people have retained a strong affinity for their traditional cultural beliefs and activities. These include retaining regular occupation of their homelands and activities such as hunting, storytelling and traditional history, ceremonies and the production of art that is highly esteemed and sought after around the world.
Large bauxite deposits were discovered on the Gove Peninsula in the 1950s. Nhulunbuy township was built in the early 1970s to service the newly established bauxite mine then managed by Nabalco (now Rio Tinto). The mine is located 15km from the Nhulunbuy town centre, near the Airport, and ships milled bauxite direct to a loading wharf for export.
The community became well known in 1963, after a number of traditional owners sent a bark petition to Canberra to protest the decision of the Australian government to annex a portion of their lands for bauxite mining without consultation, negotiation or agreement with the Yolngu people in the region.
This petition eventually resulted in reform to the Aboriginal Land Act, with the result that Traditional Owners negotiated partnership agreements and royalties with Rio Tinto, who now operate the mine.     
During World War II, the region saw about 4,000 troops stationed at Gove.  Gove aerodrome also housed Australian and American aircraft providing escorts and medium bomber missions, while Melville Bay to the north east of the township hosted Catalina flying boats which conducted long range surveillance patrols.  Former Prime Minister Gough Whitlam served at Gove during the war, and it was here that he recognised the affinity Aboriginal people have for their homelands, which in turn fuelled his later passion for Aboriginal land rights. 
To this day there also remain signs of past contact with Macassan sailors who established trade relations with Yolngu people over several centuries that extended not just into Arnhem Land, but into the interior of the Australian continent.