More than a hobby, it's a responsibility
The Northern Territory Emergency Service (NTES) is a volunteer-based organisation. NTES volunteers are ordinary people doing extraordinary things. They play a significant role in ensuring the safety of our communities in times of emergency and disaster.
NTES currently have around 30 volunteer units and 300 volunteers who perform a wide range of roles, from responding to floods, severe storms, earthquakes, to road accidents and search and rescue.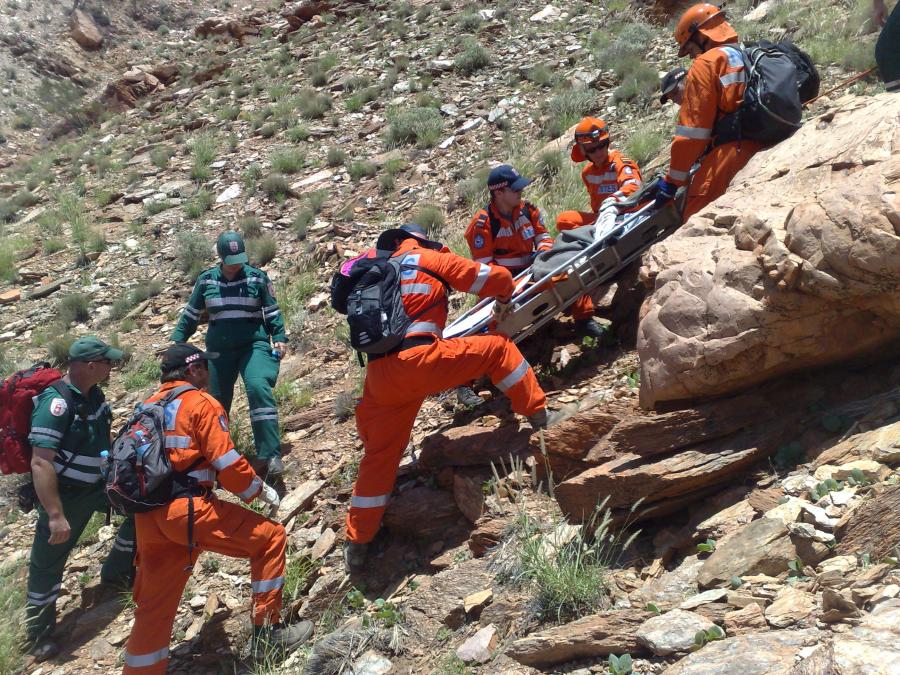 Role of a volunteer
Volunteers undertake a variety of roles according to their abilities, training and interests. Whether helping people and their community after a storm or natural disaster, assisting at a road crash, searching for a missing person, or responding to a range of other incidents. NTES members undertake a variety of non-operational roles including administration, communications and assist in non-emergency activities such as public awareness displays and community events.
What is a volunteer unit?

Volunteer units are made up of members from communities who, without payment, are prepared to offer their assistance to the NTES when needed. NTES volunteers also provide welfare support to Police and Fire and Rescue operations when required.

Why are volunteers needed?

The number of full-time emergency response personnel available to deal with day-to-day emergency situations is limited across all towns and communities. NTES volunteers supplement police, fire and other emergency response professionals by providing vital frontline capabilities and support. In some cases, such as small population regions, NTES volunteers provide the majority of the response capability. They often have training and equipment that is not available in other organisations, and are therefore an essential part of the Territory's emergency response capability.

What commitment is required?

Members of volunteer units must attend regular organisational training aimed at preparing them for their identified roles and operational responsibilities. All training costs are met by the NTES.

Members will also require the support of their employers and family to enable them to be able to respond to operational call outs with a minimum of disruption and disadvantage.

How are volunteer units funded?

Funding for the operation of volunteer units is provided by the Northern Territory Government through the NTES budget. Voluntary members are not required to carry out fund-raising, however some units do raise funds for their own associations for the purchase of specialised equipment.

What sort of tasks do volunteers perform?

NTES volunteers may become involved in preparing for and responding to many different types of disasters and emergencies including: 

Cyclone
Floods
Earthquakes
Road crash rescue
Air search
Vertical rescue
Storm/severe weather damage

 

Members also assist other emergency services with the provision of:

Emergency lighting

Crime scene/forensic searches
Emergency communications
Emergency Operations Centre (EOC) staffing

Who can join a volunteer unit?

There is a role for everyone in NTES.

Why join NTES?

Learn new skills - the training an experience you receive will help in developing leadership, communication and problem-solving skills
Challenge - experience the rewarding sense of pride that comes with challenging yourself and serving your community
Recognition - NTES volunteers are eligible for numerous honours and awards at a local, territory and national level
Mates - meet new people in the community and make lifelong friendships

What recognition do volunteers receive?

Voluntary members who serve diligently for a period of time may be eligible for:

5 Year Medal awarded by the Commissioner of Police and CEO of Fire and Emergency Services
10 Year Certificate awarded by the Chief Minister of the Northern Territory
National Medal
Emergency Service Medal 

 

For more information visit our Awards and Recognition page

How can I join?

You should contact the nearest Unit Officer who will advise you how to join - visit the Volunteer Unit Profiles page for more information.

You will need to:

complete a registration form;
supply passport photos of yourself for your identification card;
and undertake a criminal history and information holdings check.
 

You will then formally be appointed by the Director NTES, and receive an Instrument of Appointment as a voluntary member of the Northern Territory Emergency Service.