Medals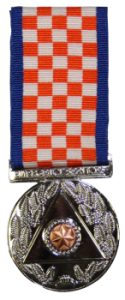 ​
Emergency Service Medal
About

The Emergency Service Medal (ESM) recognises distinguished service by members of emergency services across Australia, and people who are involved in emergency management, training or education.  It was introduced into the Australian system of honours in 1999.

Recipients of the ESM are entitled to use the letters "ESM" after their names to show that their distinguished service has been formally recognised.

The Governor-General awards the ESM on the recommendation of the responsible Commonwealth, state and territory ministers. The medal may be awarded to a person who has given distinguished service as a member of an emergency service or to a person who has given distinguished service relating to emergency management, training or education.

It may be awarded regardless of whether the person is eligible for any other award because of their service. However, a person who has already been awarded the ESM, is not eligible to receive this medal again.

The awards are announced on Australia Day (January 26) or the Queen's Birthday (June) of each year.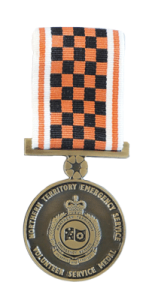 ​
Volunteer Service Medal
The NTES Volunteer Service Medal recognises NTES Volunteers who have completed in excess of five years or more of meritorious service. 
This medal was introduced at the beginning of 2007 to publicly recognise the selfless dedication and commitment to service of these NTES volunteers.
Certificates, awards and recognition
Chief Minister's Certificate of Appreciation
The 10 year service Chief Minister's Certificate of Appreciation is signed by the Chief Minister of the NT and presented to voluntary members who have completed 10 years dedicated service in one or more NTES volunteer units.
Special Commendation Awards and Letters of Recognition
Special commendation awards and letters of recognition are intended to acknowledge special efforts by a unit or person who achieves a goal over and above the routine requirements of unit operation.  The award will be on the recommendation of NTES regional members and presented, whenever possible, by the NTES Director. 
Rotary Damian Clifton Award

Damian joined the NT Emergency Service in 1997 and was a well-respected member of the Alice Springs Volunteer Unit. After twelve months as a Training Officer, Damian was appointed to Unit Officer. This was testament to his integrity and ability to help others within the volunteer unit.

Damian was a mentor for new volunteer members, assisting them with various courses and tutoring them to fulfil their goals within the Emergency Services. Over the years he continued to develop his skills and knowledge in various disciplines of Emergency Service capabilities.

His favourite subjects were Vertical Rescue and Urban Search and Rescue and in 2009 he represented the NT Emergency Service in Singapore, at the International Urban Search and Rescue Course hosted by the Civil Defence Academy. In 2011, he volunteered to travel to Queensland to help with Tropical Cyclone Yasi operations, and upon returning home he was deployed with the NT Urban Search and Rescue team to Christchurch in New Zealand to assist with the operations in the devastated city and surrounds, following the magnitude 6.3 earthquake. Sadly, Damian passed away later that year. His willingness to assist others was a tribute to his commitment to training, and in recognition of this dedication the new Southern Region Emergency Operations Centre / Volunteer headquarters in Alice Springs was named the Damian Clifton Centre in his honour.