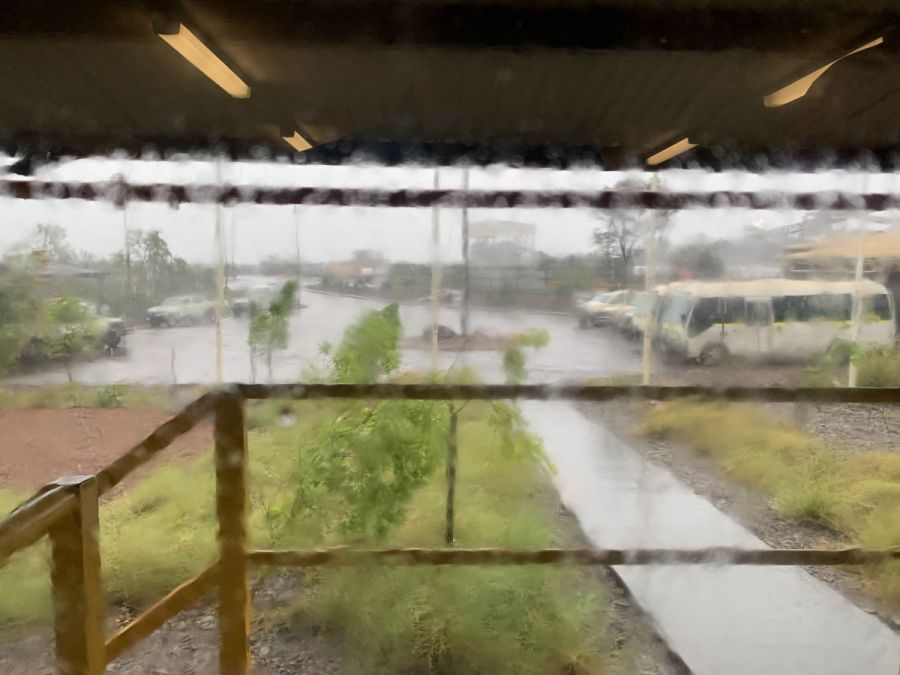 Where will you shelter?
A good emergency survival plan includes knowing where you, your family and pets will shelter.
Read below to find out more about your shelter options during a cyclone or flood.
Sheltering at home during a cyclone

Since Severe Tropical Cyclone Tracy in 1974, building codes in the NT have required buildings in cyclone-prone areas to incorporate cyclone resistant construction. Buildings that comply with the Building Code of Australia are generally referred to as being "built to code".

If your house is built to code and well maintained, you should shelter at home. If your house is not to code, you should consider sheltering with family or friends who have a house built to code. 

When sheltering in any home it is important to use the strongest, most protected part of the house. This is usually the smallest room in the house with small or no windows.

Points to remember:

Small rooms are generally stronger than large rooms.
Central hallways might give greater protection because they are surrounded by the rest of the house. 
Rooms with few or small windows are better than those with large windows. 
Solid doors with additional securing bolts give greater security than standard doors. 
Metal screens or solid shutters give added protection against flying debris. 


To learn more about improving the safety of your home in the event of a cyclone, please see our publications page.

Preparing your home and shelter area before a cyclone

Where possible, board your windows from the outside or block them from the inside using a mattress and some strong, sturdy furniture. 
Remove pictures and valuables from walls and shelving. 
Place valuables and precious items in strong water-proof garbage bags and tape up. 
Pack away all loose items into cupboards and secure cupboard doors, if possible. 
Prepare your shelter area with mattresses, blankets, pillows, emergency kit with radio, items to keep everyone occupied and facilities for pets if they are sharing your shelter.

Evacuation inland

If you choose to evacuate, you should leave early.

Points to remember:

Evacuate well before strong winds affect your area. 
Allow time to secure and protect your property. 
You may need to sustain yourself and your family for a few days, so be prepared. 
Listen to radio or television broadcasts and only return when the "all clear" is given. 
Advise friends of plans and confirm your safe return. 

Emergency shelters

Emergency shelters are unique to the Northern Territory and are a direct legacy of Cyclone Tracy. Following Cyclone Tracy, selected buildings were repaired and upgraded by the Government so they could be used as emergency shelter facilities during the rebuilding of Darwin. Shelters have continued to be provided for residents who are at risk from storm surge, and/or live in caravan parks or other non-coded homes.

Points to remember: 

They have a limited capacity and do not guarantee safety in all circumstances. 
They do not allow animals. 
They are mainly staffed by voluntary personnel with a police and medical presence. 
They do not provide meals or special baby needs. 
They might become welfare assembly centres after the cyclone. 
They are used at your own risk - the Northern Territory Government accepts no liability for any loss, injury or death arising from the use by the public during a cyclone. 

 

NOTE: A number of undercover car parks have been identified as places where residents can shelter in their cars with their pets, provided the pets are properly restrained. These car parks were built to code, but they are not designed as emergency shelters. They do not have supporting staff, are not fully enclosed, are without amenities and do not have debris screens. Vehicles and pets may not be left unattended.

To view a maps of shelter locations, please see below. View the Cyclone Guide Brochure for important information and safety in the event of a cyclone or storm.

Sheltering during a flood

Shelter locations

Visit SecureNT for a list of all shelter locations.